---
State of the Art Mikrofone, PreAmps, Sender & mehr: Filmtonequipment
Denn ich muss mich in jeder Situation darauf verlassen können – meine Kolleg*innen und Kund*innen auch.

State of the Art microphones, PreAmps, Radios & more:
Production Sound Equipment
Because I have to rely on it in every situation –  my colleagues and clients too.
---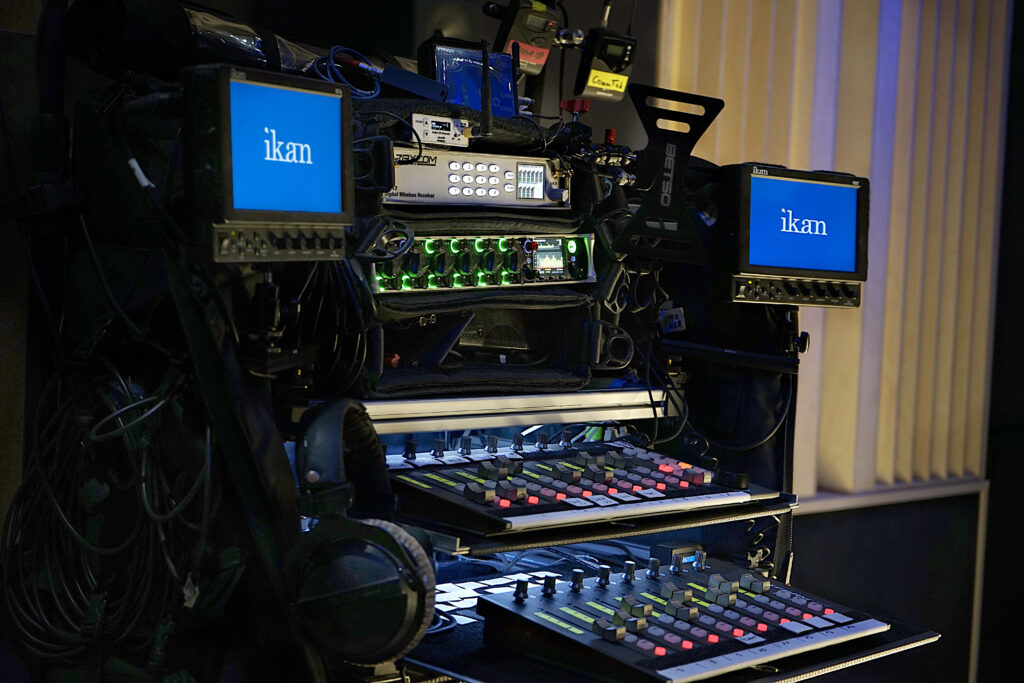 1st Unit Filmtonequipment | Soundcart Setup
.Sound Devices Scorpio | 32 Track Recorder
.X+ & M+ Controller | 16 Fader
.IKan VX7 Monitore
.MeOnLife & MeOnExtraLife Akkupack

2nd Unit Filmtonequipment | Mobile SetUp
.Sound Devices 788T | 12 Spur Recorder
.CL8 Controller | 8 Kanal Mixer
.Stromversorgung über V-Mount

Mikrofone
.Sennheiser | Neumann | Sanken
.diverse Stereo Systeme (A/B und M/S)
.DPA 5100 Surround Mikrofon
.diverse dynamische Mikrofone

Timecode, Angeln & Körbe
.Ambient Timecode Systeme
.Ambient Angeln | div. Längen
.Cinela Suspensions & Wind Shields
.Rycote Suspensions & Wind Shields

Funkanlage
.Zaxcom Funkanlage
.2x RX 12 Empfänger-Rack mit 6 Doppelempfänger
.2 Angelsender
.10 Anstecksender
.DPA 4060 & 6060 | Countryman | KoDi Lavs
.2x Shark- & Di Pol Antennen
.11x Sennheiser CommTek für Filmcrew & Kunden
.2x CommTek Wege für BoomOp 1 & 2
.2x Induktionsschleifen InEar Monitoring

Playback & div.
.aktive Playback-Systeme für kleine & große Räume
.Funk und fest verdrahtet (Party-Anlage)

.UV-C Lichtset zur Desinfektion gegen Covid19 Erreger
---
Tonstudio – 7.1.4 Mischregie & Aufnahmeraum mit variablen Akustikmodulen
In großartiger Klangqualität & entspannt die letzten Schritte der Filmfertigstellung genießen: Soundedit, Sounddesign und Endmischung.
Sound Studio – 7.1.4 Mixing Stage & Recording Stage
Enjoy the last steps of the film completion with great sound quality: sound edit, sound design and final mixing.
---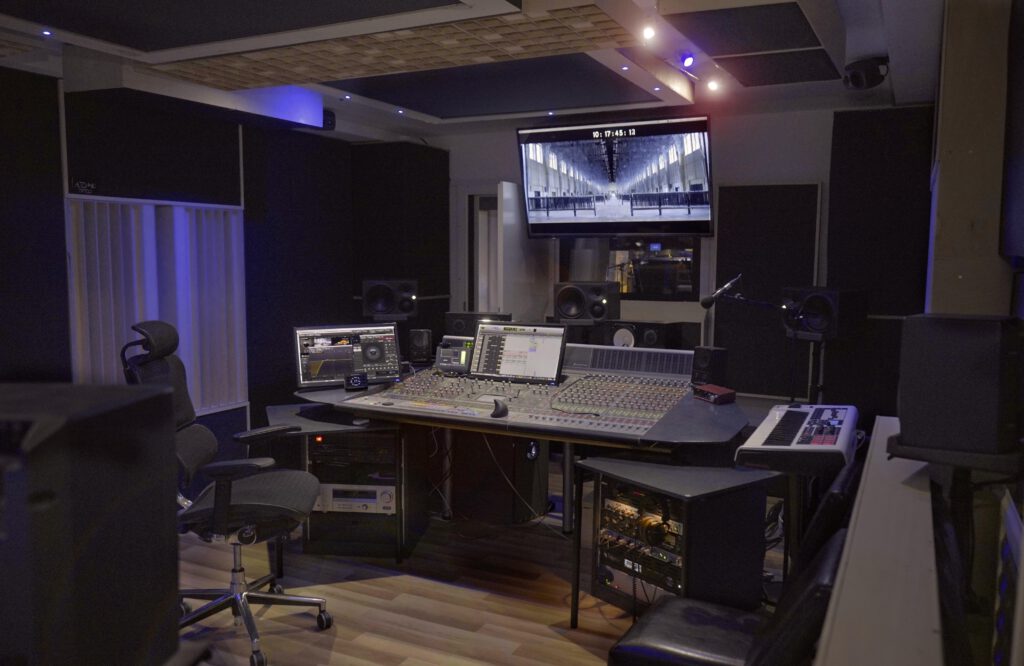 7.1.4 Sounddesign Suite & Mischregie (31 qm)
.Pro Tools Ultimate HD | Mac Pro gestütztes System | AVID ICON D-Control ES16

.3x Neumann KH 310 A Front + 4x KH 120 A Surround + KH810 LFE | 7.1 Main Surround
.4x Neumann KH80 | Deckenlautsprecher
.Yamaha NS10 Studio Lautsprecher | 2.0 Stereo System A
.Fostex 6301B TV-Referenzabhören | 2.0 Stereo System B
.Avid MTRX Studio Interface | 2x RME Fireface Interface | Ferrofish AD/DA Wandler

.RTW TM7 Messmonitor
.75″ LED TV | 4k Monitor

.Waves Mercury Bundle | Waves Studio Classics Bundle | iZotope RX9 Advanced Denoising & Audiorestauration Bundle | Altiverb 7 XL | uvm.

.viele Software Synthesizer | umfangreiche Soundlibrary 5.1 | 2.0

.TV Mischung nach EBU-R 128 | Vormischungen für Kino DCP (LEQ82 | LEQ85)
.Kinomischung bis 7.1
.Dolby Atmos Home Production Suite: 7.1.4 System

.bequeme Couch für Kunden und Produzenten
.fair produzierter Kaffee, Milchkaffee, Espresso, …
.tolle Atmosphäre für kreative Köpfe
VoiceOver & Recording Stage (27 qm)
.50″ LED TV Full HD | separate Timecode Anzeige | variable Akustikmodule

.Neumann TLM 103 Großmembranmikrofon
.Avantone BV-1 Großmembran Röhrenmikrofon
.Neumann | Sennheiser | Audio-Technica | Sanken Kleinmembranmikrofone
.DPA | Countryman | Ko-Di Lavalier-Mikrofone
.div. dynamische Mikrofone

.Summit Audio 2BA Röhren-PreAmp | Summit Audio FeQ50 Röhren Equalizer
.Fireface PreAmps | SlateProAudio "Dragon" Kompressor

.Edicom ADR Software (EdiCue | EdiLoad)

.Skype-Anbindung (Video | Audio)
.Name: Alex Rubin Filmton & Ton Post-Pro

.tolle Atmosphäre für Sprecher*innen